What Is Going On With AMC Entertainment?
I'm sure you've heard the news:
Defying all forms of fundamental analysis and business logic, AMC Entertainment (AMC) once again finds itself climbing higher.
AMC is up 200% advance since last week and almost 3,000% since the beginning of the year.
This is another coordinated short squeeze event by retail investors – especially the users of the Reddit Forum /WallStreetBets or "Apes" – as they call themselves.
Back in January, AMC Entertainment (AMC) and fellow Meme Stock, GameStop (GME), were the focus of an attack on institutions and hedge funds that held substantial short positions in the stocks.
"Being short" means that the investor believes that the price of the stock will fall and that the underlying business does not deserve its current valuation.
A short squeeze occurs when the price of a stock climbs and goes against the short position. Forcing the short sellers to buy existing shares to "cover" their positions.
When a stock has an unusually high short percentage, like AMC and GameStop, investors can actually force the price to go higher by buying up shares at the current price.
From there, it is simple economics: the supply of shares falls as the demand increases, driving the price of the equity higher.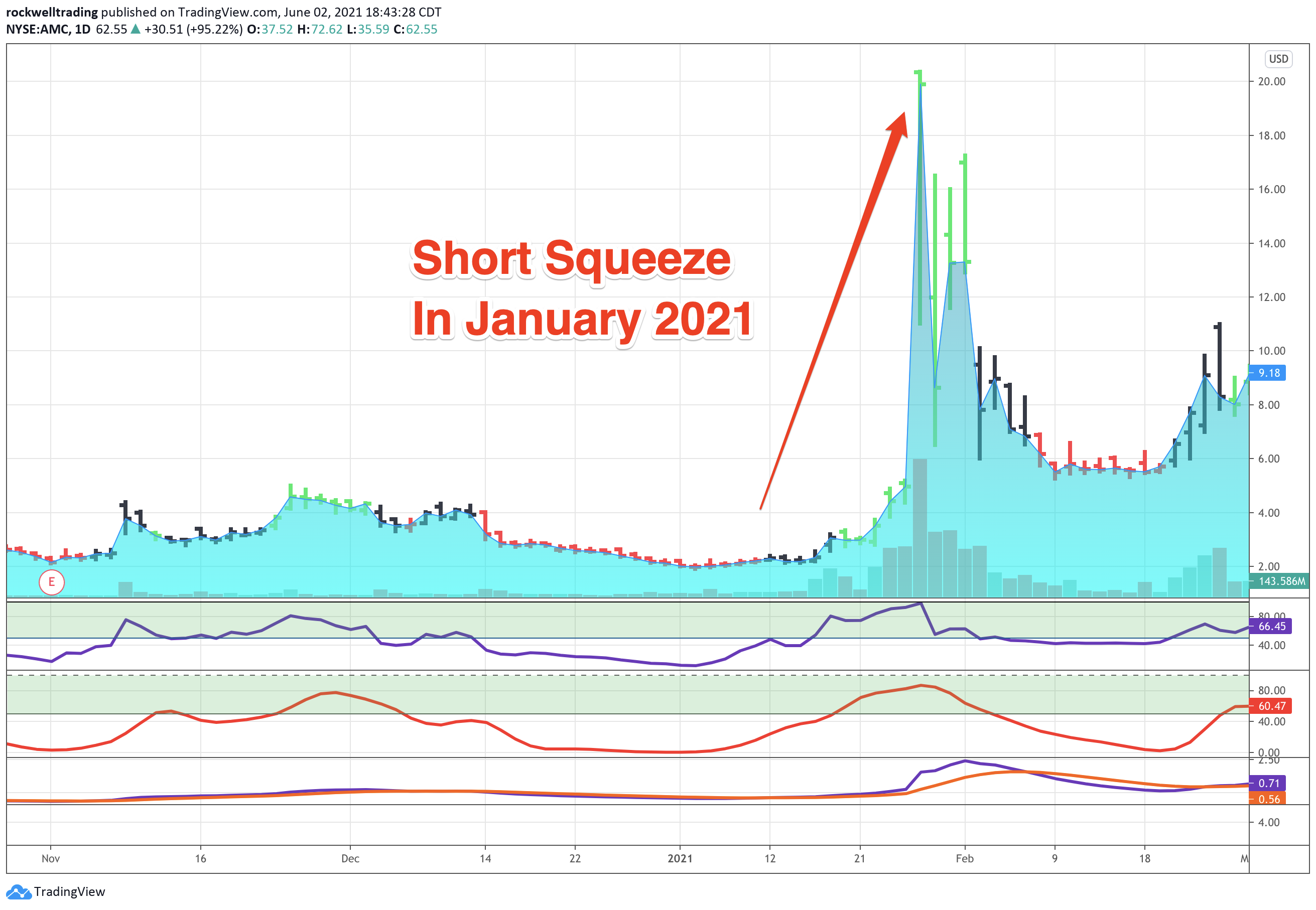 Just exactly how much have short-sellers lost on AMC?
On Wednesday, June 1st, short-sellers betting against AMC lost $2.8 billion, bringing their year-to-date losses to more than $5 billion, according to S3 Partners.
The idea of short squeezing these stocks was fueled on social media, Reddit to be exact. The subreddit r/WallStreetBets made AMC and GameStop its darlings. Along the way has amassed an army of Apes numbering over 10 million.
Since then, the hashtag #SqueezeAMC has trended all over the internet. Daily trading volume for AMC has topped a staggering 650 million shares over the past few trading sessions, indicating that retail investors are all in!
Why Is AMC Stock So High?
Mark Twain once said, "history does not repeat itself, but it often rhymes".
AMC and GameStop are once again being squeeze by r/WallStreetBets and other traders that are growing tired of the market manipulation by institutions like hedge funds.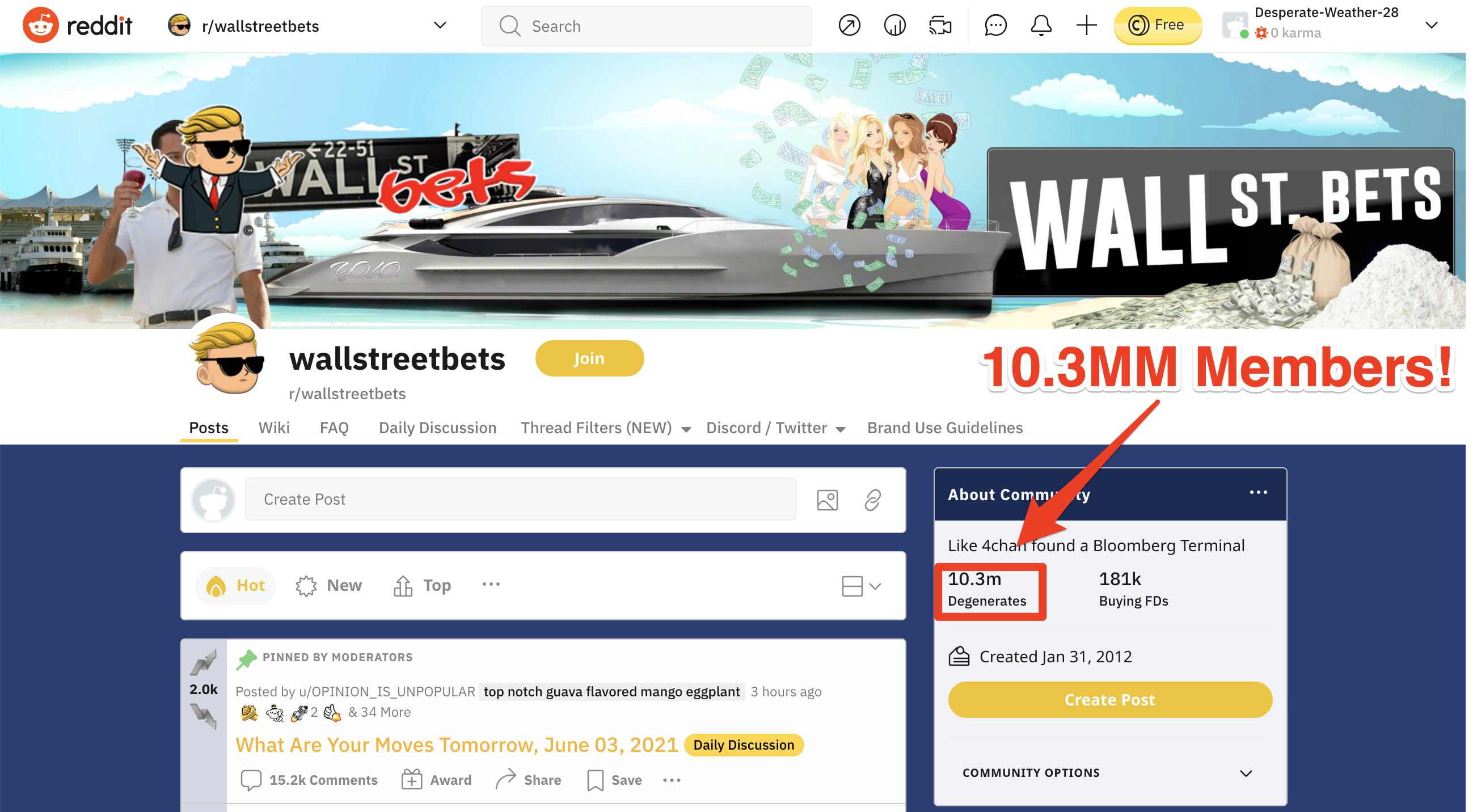 There are other catalysts as well though, including the great re-opening following the COVID-19 pandemic. AMC operates nearly 1,000 movie theaters around the world and announced that all of its U.S. locations are back open following an aggressive vaccination rollout.
Early indications from both the Easter and Memorial Day long weekends are that movie fans are ready to return to theaters. We are also nearing the summer blockbuster season that will see the return of big-name movies like Space Jam 2, F9 the latest Fast and the Furious movie, and the Suicide Squad sequel.
Who is Buying AMC Stock?
AMC CEO Adam Aron is a genius: He has also been hitting all the right notes with investors.
Here are just 2 examples:
1.) Aron famously announced that AMC Entertainment was 'under attack' by short-sellers, which served as a rallying cry for WallStreetBets.
2.) He additionally revealed that retail investors "own more than 80%" of the company at the last count, meaning a non-institutional base now owns a super-majority of AMC shares. At the last earnings call. he said: "We work for them. I work for them… and their ambitions and passions are important to me."
3.) And yesterday, he was announcing plans that AMC investors will be rewarded with special screenings and free popcorn.
Contrast that with ex-GameStop CEO George Sherman, who stayed largely quiet while his company's stock price soared in late January.
Did AMC Sell More Shares?
Recently, AMC Entertainment sold 8.5 million shares to an investment firm called Mudrick Capital, which helped the company raise about $230 million.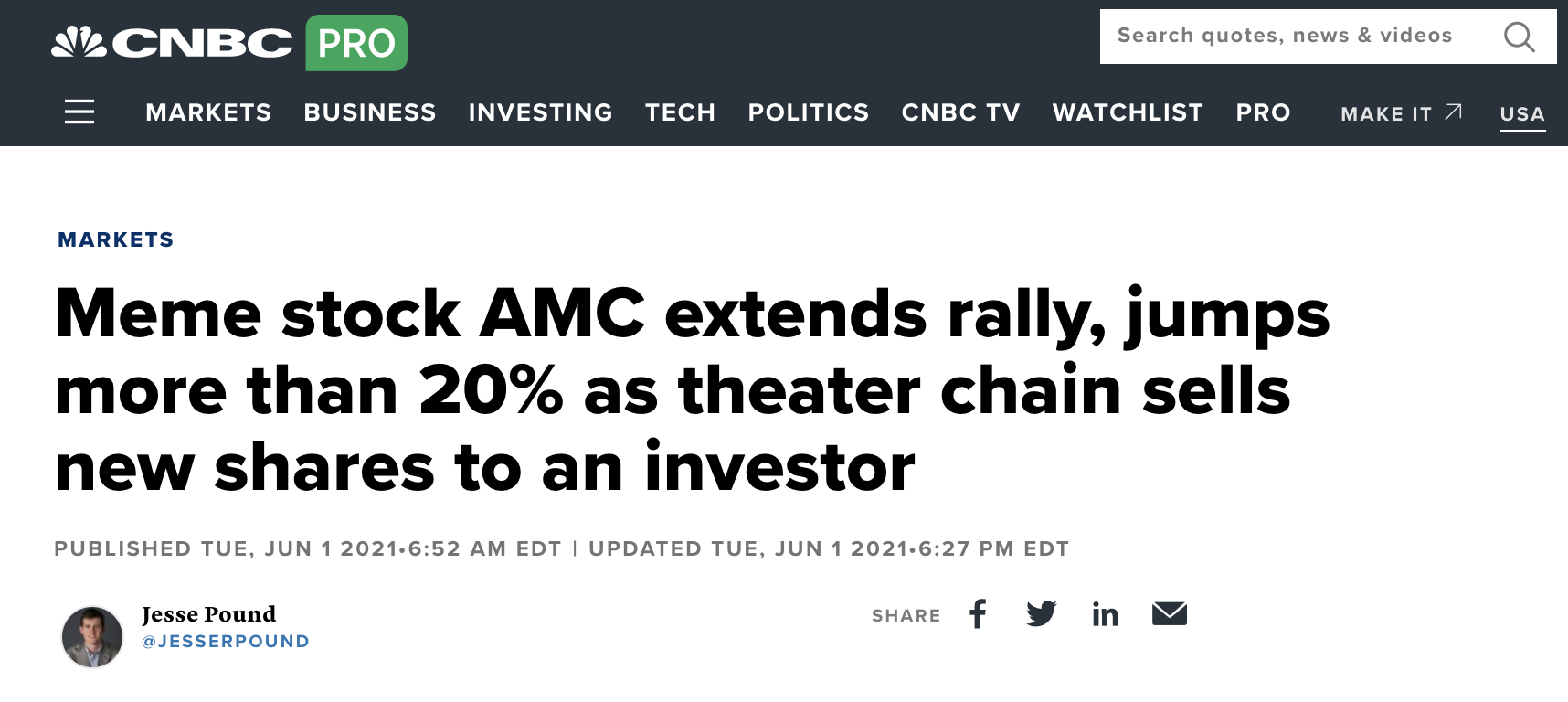 Mudrick stated that the stock was now overvalued, and given the recent volatility, it's hard to fault them. Had Mudrick held onto the shares, they would now be worth well over $500 million.
This morning, June 3rd, AMC announced that it filed for additional share offerings with the SEC. They said it may sell some of the 11 million shares "from time to time."
Apparently, that time was now as it completed the offering in about three hours. AMC said it sold 11.55 million shares at an average price of approximately $50.85 per share – bringing in an additional $587.4 million.
This is on top of the $658.5 million already raised this quarter, resulting in a total equity raise in the second quarter of $1.246 billion.
What's The Highest AMC Stock Has Been?
Yesterday, on June 2nd, AMC rallied an unimaginable 95% to close the trading session at over $72.62 per share, which is the highest it has ever been.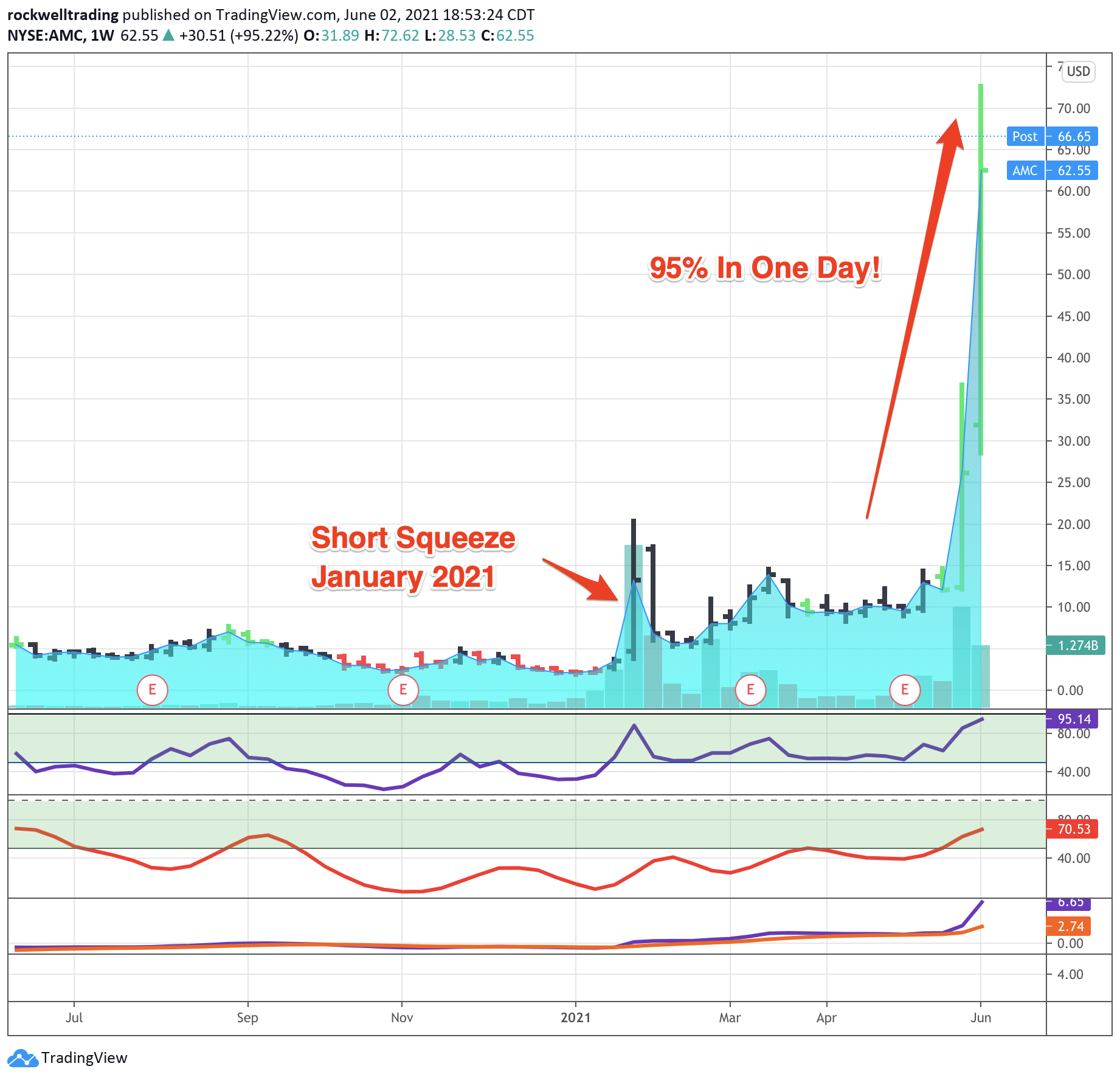 AMC has now gained 3000% year to date, which is a clear illustration of the current hysteria surrounding the stock. AMC has now surpassed GameStop's market cap, and is clearly the new favorite stock of WallStreetBets.
How High Will It Go? Can AMC Really Hit 100,000?
Nobody actually knows! Any guess is pure speculation right now, so please do not take anyone's word for an actual price target. A short squeeze like this is a ticking timebomb, and as we saw in January, the downside comes harder and faster than the ride up.
If you do a quick scan of social media, you will find price targets of anywhere from $100 to $100,000 per share. Remember, it is all speculation, and there are many people who will take advantage of investors feeling FOMO by pumping out inaccurate information.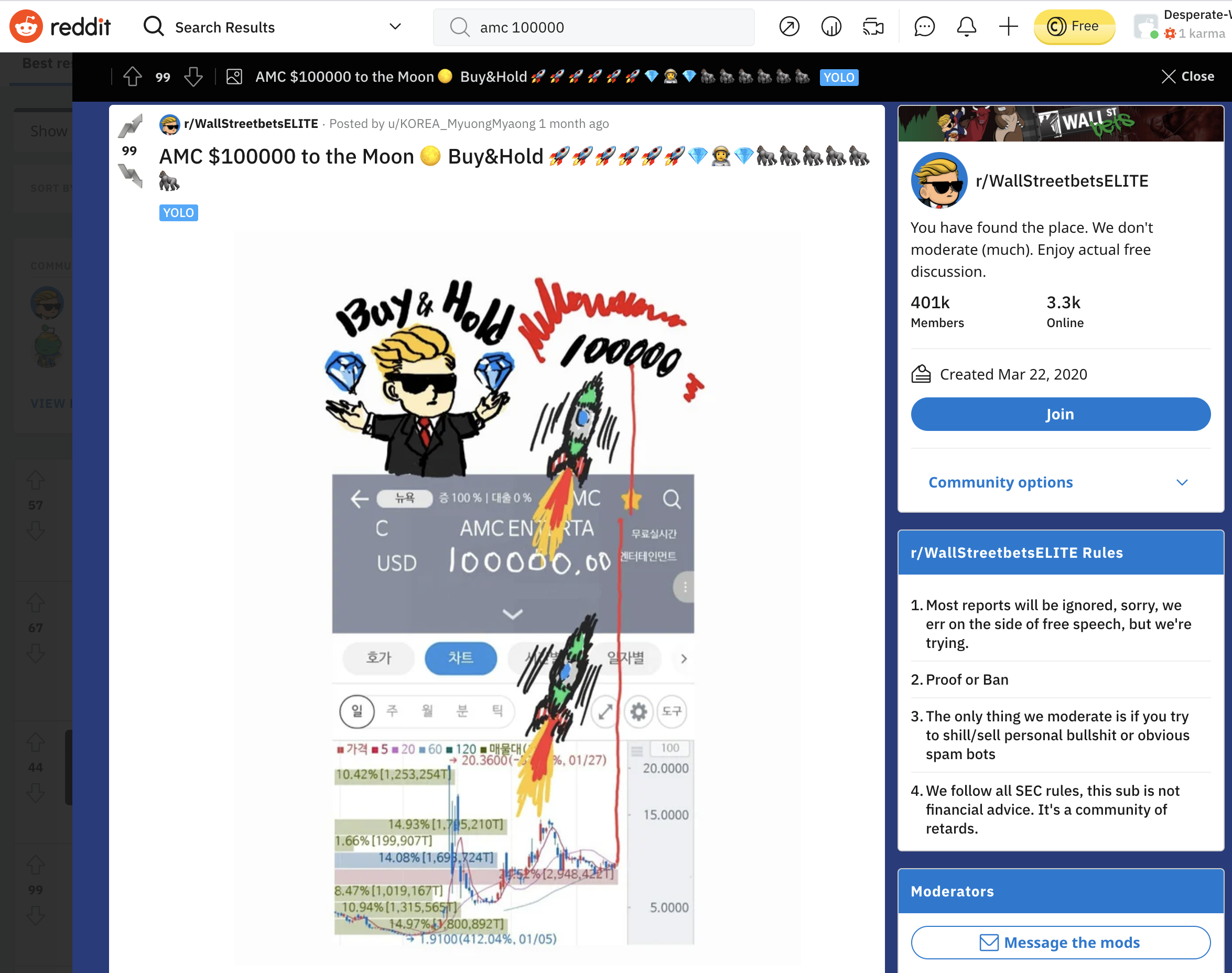 Let's take the popular figure of $100,000 per share as an example.
There are 498 million shares outstanding for AMC.
Simple market cap calculation would place the value of AMC at about $50 trillion, or more than the entire S&P 500 index, which is valued at about $35 trillion right now.
Before we talk about whether you should be investing in AMC or not, let's talk about the fundamentals:
Is AMC Losing Money?
Yes. 2020 was tough for AMC: The company lost 4.5 Billion Dollars.

Will AMC Go Out of Business?
AMC is in a tough position:
During the pandemic in 2020, streaming services like Netflix, Disney+, Amazon Prime, Hulu, and others gained a lot of momentum. And many people upgraded their home theaters.
But with the cash infusion of more than $1.2 Billon, AMC can buy up their competitors, upgrade their theaters, and invest in their growth.
And as COVID restrictions are being lifted in the US, people are ready to get "back to normal" – and this includes visiting theaters.
So AMC could be in a good position to stay in business.
Will AMC Go Up Tomorrow?
Who knows?
In their SEC filings, the company said:
"We believe that the recent volatility and our current market prices reflect the market and trading dynamics unrelated to our underlying business, and we do not know how long these dynamics will last."
And AMC CEO Adam Aron warns:
"Under the circumstances, we caution you against investing in our Class A common stock, unless you are prepared to incur the risk of losing all or a substantial portion of your investment."

"Should I Buy AMC Shares?"
This is the real question: should you buy AMC?
Is AMC a good buy?
If any other stock gained over 1,100% in less than six months, would that seem like a good time to buy in?
Warren Buffett famously said, "be greedy when others are fearful, and fearful when others are greedy".
And even the CEO himself thinks that the company is overvalued, stay away from the stock!
I can guarantee that much of the FOMO investors buying in now are doing so out of greed.
Now, I'm not saying the stock won't continue to rise.
WallStreetBets has certainly rallied a large enough army to keep the momentum going for now. But realistically how much higher can we expect the stock to rise?
After last week's gains, most of the move might already be over, and trust me when I say, this is not a bag you want to be left holding.
So you might be asking what about me?
Would I Buy This Stock?
Heck no!
I tend to steer clear from volatility and this level of risk.
My focus is always on SRC Profits: Systematic, Repeatable, and Consistent.
If you are investing your hard-earned money, there are certainly safer investments to make than a highly speculative social media short squeeze attempt.
How To Buy AMC Shares?
At the end of the day, if you still want to buy AMC shares, all you need to do is log on to your brokerage and decide how many shares you would like.
With a stock that exhibits as much volatility as AMC does, you may want to consider entering a stop/loss to protect yourself from the downside, which almost always comes faster than you think.
Read Next: Bitcoin Crash 2021: Is Bitcoin Still Worth Buying or Investing in?