I want to talk about what I call, the best trading software in the world for options trading, for any level of trading experience.
What this means is that you can have the best trading software in the world for options trading at your disposal for any trading situation. This is, of course, my opinion.
I'm biased because we are talking about the PowerX Optimizer which is the software that I have developed. I use it for two options strategies. The PowerX Strategy, and The Wheel Strategy.
We just released a new version, and I just want to show you a few of the new features that will benefit many options traders.
One of these features, I will believe is a game-changer, especially when you are options trading with The Wheel if you use this strategy to generate income. I
These new features will help you trade options with ease.
New Features
Candlesticks
In this new version, we now offer candlesticks.
In your settings under "Display," there are only the options for bars and candles. We will enhance this in the future to give to the option to even define your own custom colors.
We believe that this is important if you are color blind or if you don't like green and red. If you like to have pink and purple, that is all fine, so we will allow you to do this.
Up until this new version we only had the option for bars. We have gotten a lot of requests from our PowerX Optimizer users to add the option for candlesticks. I had our development team make that happen.
As you can see, the candlesticks even colored here nicely, according to our PowerX color.
But this is not only for the PowerX Strategy, this is also happening here according to The Wheel. It can be used with both options trading strategies to trade options
It can be used for other options strategies as well.
New Filters
When you are looking for Wheel Strategy stocks, we had a minimum filter of 30% annualized.
This means that we want to trade options both call options and put options where we get at least 30% on an annualized basis.
Some of our users felt that this was too aggressive for their style of options trading, asking for 20% or 10% because 30% is too greedy for their trade style & risk tolerance.
Now the minimum ROI is now as low as 5%. You can now set a filter to see options with an ROI between 5% and 15%.
It will show you all of the stocks that meet these criteria for your style of options trading.
We feel that this is a significant enhancement. This is not the enhancement that I think will make your life so much easier, but we'll cover this feature momentarily.
But feel free to adjust it any way you want. However, one word of caution here. When you click on "Reset," it means that it shows all of the stocks that have a minimum annualized ROI of a minimum of 5%.
This means that you will see a lot of stocks. You want to make sure that you're using either the recommended setting that I will continue to use, the 30% plus, or that you put any setting that you want in here.
Market Cap Filter
We now have a public roadmap that will be accessible from PowerX Optimizer. As you can see on this roadmap, we will be releasing a market cap filter for the wheel strategy.
This will probably release two versions from now.
This is something that many of you have been asking for. Some of you do not want to have micro-cap or small-cap stocks, and only want to focus on medium or large-cap stocks.
We will allow you to define a range of market capitalization when this feature is released.
And if you have no clue about market capitalization at all, we will provide some guidelines. You can click on any of these and it will show you the market cap.
Or you can define your own range, whatever you choose to do.
There are two important questions when you're trading The Wheel.
Number one, do you want to own the stock?
Number two, do you want to own it at that strike price?
This, I believe, will help you to filter out some stocks, simplifying your options trading experience.
Before we continue, this article is a part of our Options 101 For Beginner Series. This is a series of FREE on-demand video courses where you will learn the building blocks of options trading, the core concepts, how to avoid crushing mistakes, and much, much more. You can check out this free course HERE.
Our New Game-changing Feature
Let's move on to what I think will be a game-changer for those of you who are trading The Wheel, especially if you want to trade like advanced traders.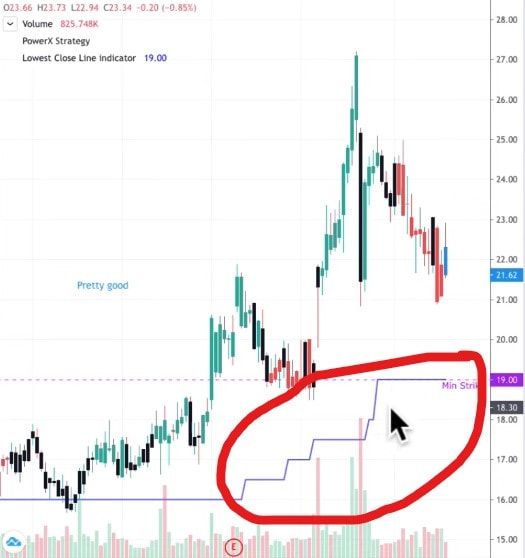 A few versions ago we implemented the lowest close indicator which is a visual aid that can help you identify you have solid support.
It shows you the lowest price that this stock has been trading at over the past two months, which is eight weeks. This helps you to find some strike prices that might be helpful.
The two filters that I've shown you thus far will help you with:
Number one, the criteria for finding the best stocks to trade. For a call option or a put option, it doesn't matter.
Number two, is at what strike price?
Now let me show you something really cool.
You see in the picture above that the minimum strike price is above the lowest close.
This means that the strike price so that you get at least 20% which is what we specified, is 40.
And as you can see, this is well above the 39 stock price.
So you might not want to trade it. Your criteria for options trading and options prices may be different.
This is where we have now a new filter. Based on what I've seen, we are the only company in the world that has a filter like this.
Options trading will be much easier.
This filter shows you only those stocks and options where the minimum strike price is below the lowest close indicator.
For example, looking at a chart for Academy Sports and Outdoors (ASO), the lowest closing price over the last eight weeks was a stock price of 38.50.
And right now you can sell puts with the strike price of 33.50 and you get the minimum specified return.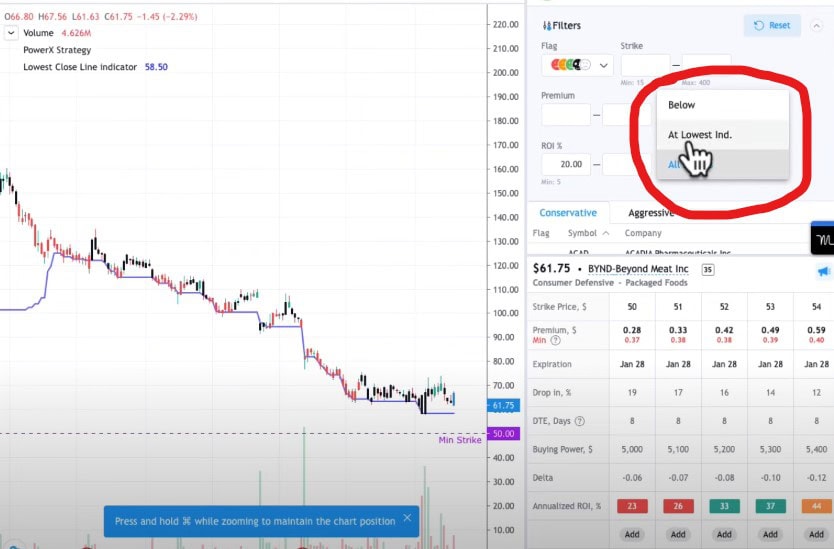 We took this even one step further. Let's do an ROI of 20%, and take a look at stocks that are AT the lowest indicator.
This will help you to narrow down the list of all of the stocks.
Look at this. Now, we only have four stocks to look for.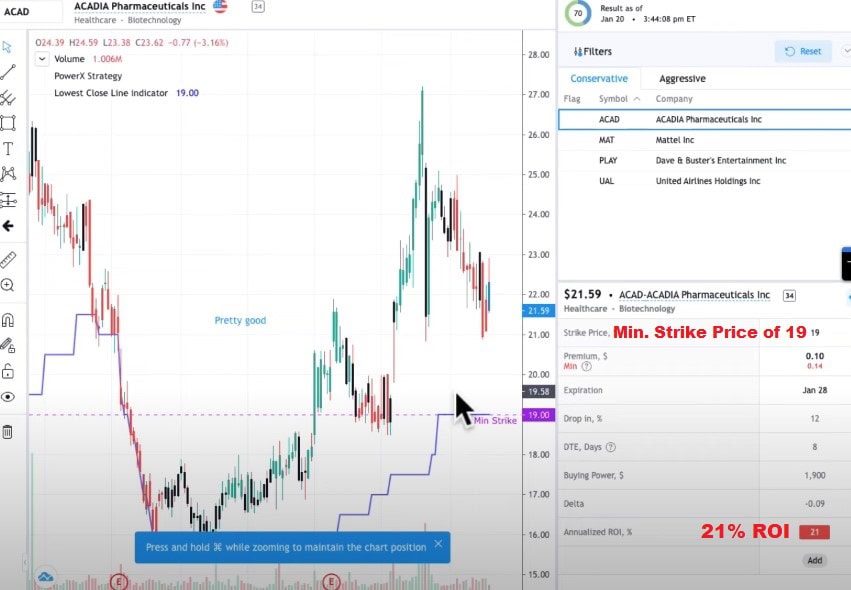 If we take a look at ACAD, one of the four on the list, you can see, the minimum strike price here. You can get your 21% annualized is 19, where we have the lowest low over the last eight weeks.
We narrowed down this list from dozens of stocks to only four.
We can even look at the financials of PLAY, another one of the four stocks, and see how they have been doing over the past few years.
Well in 2021 posting a loss, not surprising with the pandemic.
Overall right now, as you can see, quarterly revenues are rising again. They are profitable again. Again, it's up to you whatever you choose as your criteria for options trades.
So do I like the stock at this specific price? And if the answer for you is yes, look at this. Right now you see the minimum strike price available here at 31, so this would be right at the lowest low.
So you can flag this as a yes.
Let's take a look at UAL, United Airlines. You will see exactly the same. Again, the question is, do you like United Airlines? But look at the minimum strike.
The minimum strike price is right around, and this is why we say at, right, plus, minus $1 the lowest low indicator. This looks like a good one. I like UAL.
Why is this so awesome again? Because I haven't seen any other trading software out there that does that. And this is interesting for you when you are trading The Wheel Strategy.
Now again, if you are not trading The Wheel Strategy, if you are trading something like Iron Condors, you might not get why this is a great thing. But if you have been following me for a while, then you know how exciting it is.
Because if reset to the default setting of 30% ROI, more stocks and symbols will show up. On days when the market is going down and you go shopping, you have a lot to go through and flag.
Probably in the next version, we will add a market cap filter.
Placing OCO Orders For Tradier
So but let me give you a little bit more of a sneak peek of what else is coming. So we also have OCO orders for Tradier, which is a trading platform I use. It is one of the best options trading brokers in my opinion and is one of my preferred online brokers.
This is now more for if you are trading the PowerX Options Strategy.
If you use Tradier as your trading platform, you know that in the past, the only way to place OCO orders with Tradier was over a mobile app.
And now you can do it natively right out of PowerX Optimizer here. You can place these OCO orders right away out of PowerX Optimizer.
This is where you will see when we have here a stop loss and a profit target you can place an OCO order. What does OCO mean? It's a kind of options trade that means "one cancels other."
This is a small enhancement for those of you who are trading the PowerX Strategy and those of you who are have an account with Tradier.
If you would like to open an account with Tradier, opening a brokerage account is easy. You can check them out HERE and get our special monthly subscription price of only $10 a month for unlimited trades, no commissions, no matter how many stock trades you take, unlike most brokers!
It doesn't matter if it's one options contract or ten. One of the best trading platforms for frequent traders.
When it comes to fees, they are one of the best options trading platforms for any options trader tired of paying a fortune in broker fees.
Tradier are perfect for a beginner or advanced options trader and have margin trading available.
They have a desktop platform, mobile app, and they integrate directly into The PowerX Optimizer. It really is one of the best options trading platforms there is.
Upcoming Features
Indicators
If we refer back to our roadmap, we have something else exciting coming out in the next couple of weeks.
We will actually allow you to add indicators to the chart. Right now, our users may be using TradingView if you like to see things like moving averages, 50-day, a 200-day moving average, whatever it might be.
The RSI, Stochastic, and MACD are something that we already have on a different development server. We have multiple servers. Several production servers are the ones our users are working from.
I believe we have 4 or 5 servers here distributed all over the world so that it reacts quickly. Then we have a so-called staging server.
This is the server that I'm working on right now. This is right before we have a release. Our quality assurance engineer tests everything. This is where we run our final tests.
Then there is another server that only the Dev Team has access to. Based on what I've heard from the dev team, it is unlimited how many indicators we can add to this.
Watchlist For The Wheel Strategy
Many of you have asked for a watchlist for The Wheel.
This is a little bit more complicated, we're still working on it. But if you have certain stocks that you want to trade with The Wheel, you can add them to a watchlist.
Or maybe you have different criteria where you don't want to use our scanner, but you have your own scanner. Then you can just enter the stocks that come up according to your criteria. Then you will see for those stocks all the information in PowerX Optimizer.
So this will be probably in the next release, not in this one that's coming up. So the one that's coming up is v2.7, so probably v2.71.
Holiday Calendar
We also will have a holiday calendar. This is something small, but a great feature when you are international.
International users may not know what U.S. holidays the markets will be closed, and what days these are.
If you live in Australia, England, Germany, or Austria this might not be a holiday for you. But this is where we will show all of the important holidays for the US and for Canada. So a small improvement there.
Stock Correlation Tool
We have another big feature coming, which is a stock correlation tool. What does that mean.
It means that you can actually enter up to 10 tickers and see if they move together. As an example, Kohl's and Macy's are probably very correlated. And why is this important? This is important because we always tell you do not to load up your portfolio with multiple tickers that are correlated.
You may wonder if MARA is correlated to Bitcoin? Is RIOT correlated to Bitcoin? Is Tesla correlated to Bitcoin?
To find out, all you have to do is just enter those tickers. And yes, you can correlate Tesla with Bitcoin and see how much they are correlated. You need to have at least 45 days to have a correlation.
But then you can go back up to 2 years to look at past performance, so you can see how correlated they were over the last 60 days? The last 2 months? 6 months? 2 years?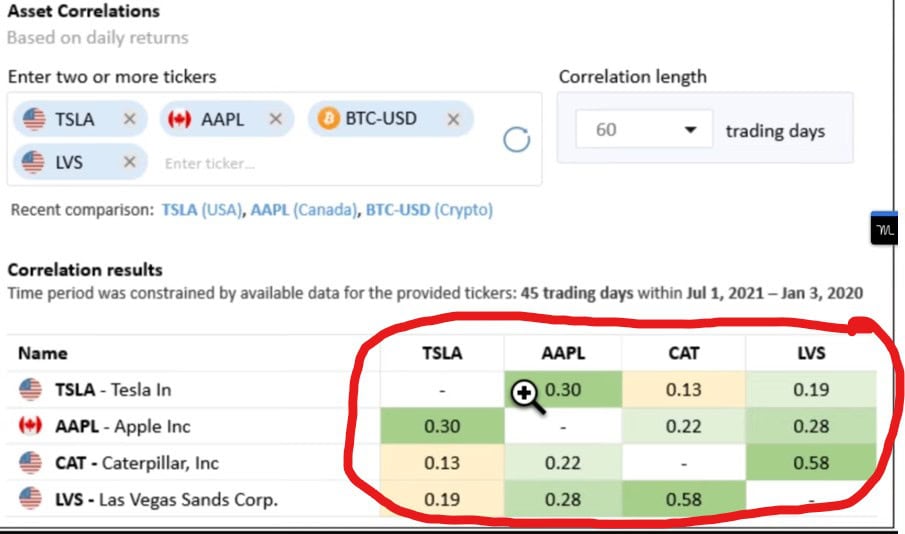 When there is a correlation larger than 0.5 means that they are correlated. If you see something like 0.8 or 0.9, it means that they're super-strongly correlated.
If it would be 1, it means that they move exactly the same. So this is almost like SPY and SPX.
For those of you who do have the PowerX Optimizer, you will have access to this roadmap. You know at any given time what we are working on, and what is coming up soon.
In progress is basically our next release, and we usually release twice a month.
Some of the upcoming features include:
Real time data for cryptocurrencies
Pre market data
Earnings calendar similar to stocks earnings
Economic calendar
Integration with Interactive Brokers
Trading Log
Alerts
Custom colors
… and much more!
I just started putting all of this in on Martin Luther King Day when the markets were closed.
I didn't have much to do that day I thought I'd just map out this public road map so that, you know exactly what is happening here.
Summary
This is why I believe that PowerX Optimizer is the best trading software in the world for trading options, or if it is not yet, it soon will be.
If you have already invested in The PowerX Optimizer, all these updates are automatically included.
Now we are planning to change this going forward. Right now, if you did a one-time investment in PowerX Optimizer, it means that you basically have access to it for life and that you have access to all of this.
Probably this quarter, we will change it to an annual subscription. This will be an annual subscription of probably an initial investment of $2,000 and then $1,000 after this per year.
And you know, if you have been using this tool, you know, it's very well worth it.
I mean, that's what? Less than 100 bucks a month. And I don't believe in monthly subscriptions like $97 a month. Either you love this tool and are a trader, or you're not.
If you would like to learn more about the two strategies that I trade, I suggest picking up a copy of my books. You can grab a copy of The PowerX Strategy HERE, and a copy of The Wheel Strategy HERE.
I also have two videos for you. One of them is explaining the "PowerX Strategy." The other one is explaining "The Wheel Strategy" in detail.
Read Next: Stock Market For Beginners 2022: Step By Step Guide